Your Source for Fast, Accurate, and Affordable Vehicle Appraisals
The International Vehicle Appraisers Network (I-VAN) provides professional vehicle appraisal services in a timely, objective, and affordable manner.
What Makes I-VAN Unique among Appraisal Organizations?
I-VAN is a group of hobbyists who have come together through specialized training to create a true network of vehicle appraisers. Each of the appraisers has their own interests, knowledge base, and collection of vehicles; through the network we continually share our expertise. Our combined knowledge of vehicles, judging experience, and hobby expertise represents a broader scope of vehicle coverage than any other appraisal organization in existence.
All vehicles are personally inspected by the appraiser who prepares the finished appraisal report in order to ensure maximum acceptance in the marketplace and the legal community. If you were buying a car, would you accept as legitimate an appraisal from someone who never saw the car?
All I-VAN appraisers are certified and required to update their certifications annually through continued education, training, and judging experience.
Select I-VAN appraisers who do Diminished Value, Lemon Law, and Fraud appraisals are also certified in these fields and are further required to be re-certified annually through self-improvement, education, and experience.
Each month, the I-VAN home office reviews appraisals to ensure continued quality assurance.
I-VAN Events
Many I-VAN appraisers participated in the world's largest antique car show and swap meet at Hershey PA, sponsored by the Antique Automobile Club of America (AACA), October 2016. We had good representation at our Annual I-VAN Meeting and enjoyed each others' company.
We look forward to seeing you in Charlotte, NC in the spring.
-Jeff Locke
Appraiser of the Year, 2016
Jeff Locke, I-VAN Executive Director, congratulates Greg Denk from Kansas City - AGAIN! Greg was I-VAN Appraiser of the Year 2010, 2011, 2012, 2013, and tied in 2014. After a year's break, Greg is back in 2016! We'd like to add that Greg has been laid up with surgery for 6 months of the 2016 season. His wife has been a huge part of Greg's success this year. Congratulations!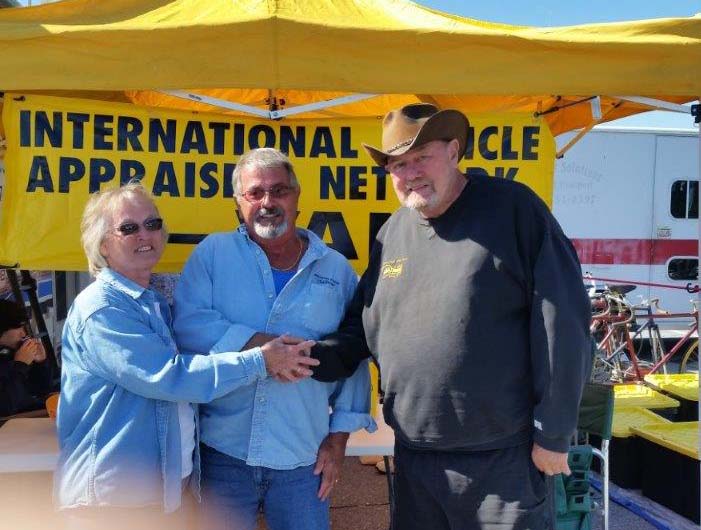 Becoming an Appraiser
Would you like to get paid to look at old cars? Not just anyone can join I-VAN.
To become an I-VAN appraiser, qualified applicants will ideally be automotive hobbyists, belong to car clubs, and have car judging experience. Additionally, to ensure no conflict of interest, applicants may not restore, buy/sell, paint, fix, transport, export, or insure collector vehicles for a living.